1. DURANTE EL CONCIERTO EN OITA(EN PLAZA BEPPU OITA) A KHJ LE PREGUNTARON QUE ESTABA TOMANDO, EL DIJO QUE MEDICINA Y LE PREGUNTARON SI SABÍA BIEN, DESPUÉS DE UNA LARGA EXITACIÓN ÉL DIJO QUE SI.
2. KHJ: WHAT FANS LIKE MOST IS ME TO DANCE/TAKE OFF. THAT MAKES ME FEEL MY HARD DANCING PRACTICE A WASTE. WILL BUILD UP & PRACTICE DANCE TO PUT
A GREAT SHOW.
3. ESA CARITA DE LA FOTO SE LE VE TRISTE, TE QUIERO VER SIEMPRE ALEGRO. SONRIE.
ESTA FOTO ES HERMOSA, FASCINANTE LA EXPRESIÓN COMBINADA DE KHJ CON EL LOBO. NATURALEZA EXPLENDOROZA.
Palabras de KHJ en el Concierto en OITA
CONTINUACIÓN
ESTA IMAGEN CORRESPONDE AL CONCIERTO DEL SÁBADO 8 DE JULIO EN KAGAWA, PERO IGUAL SE VE TAN BELLO. QUE VALE DONDE SEA.
ENGL] [2017.07.08] Kakawa:
HJ talk abt lyrics of Please & Imademo based on Korean transcriptions in fan acnt
Cr: @archangelhj / via: @sunsun_
SOME TWEETS
@kikakhj
"Till the dance KHJ concert, KHJ wants to work out and get in shape, practice songs and make it 10 times greater concern than Mugen"
@Princessmich123
Scary, The tickets for KHJ innercore Kyoto concert are all sold out in split second. Even restricted views seats are gone in seconds.
@kikakhj
"This time is band style tour. Why I didn't dance (in this tour) is coming from my desire to make it
fully comple"
@loving_khj
KHJ was asking dans about cities he should have on tour next... someone shouted Seoul, said he can't in Seoul for now....
@kikakhj
"Even though I have practiced dance and songs for many months, the most exciting part for u all is when I take my clothes off"
@kikakhj
KHJ wrote down a wish in the Tanabata Star Festival: I wish I can carry on living w/ getting grip on myself(brace myself)
@kikakhj
in the second encore KHJ showed up again & said; "Ejnd credic roll has been shown, u guy don't go home? You won't do handshake?/Seemed delighted.
@ I hear there were heavy rain and earthquakes in Oita, I onlycan express my sympathies & sing with all my heart. Please keep your spirits up.
He couldn't decide which one to pick-hug or handshake. but last time at the hug event, he got his shirt dirty so.
As the hall is pretty small, looks like KHJ is enjoying the compact live atmosphere. Already walked around.
TU LO SABES QUE ERES MIO
ERES MIO, SOLAMENTE MIO
TE QUIERO PARA MI SOLA
EL AMOR POR LA MÚSICA NOS UNE / I AM PART OF YOUR FUTURE.
THE NEW HAIR STYLE DE KHJ AT OITA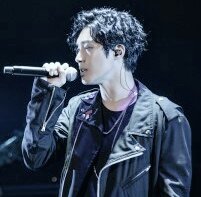 ESCRIBIREMOS JUNTOS CADA UNA DE LAS PÁGINAS DE TU FUTURO
ESTE VIDEO ES UNO DE MIS PREFERIDOS, TIENE YA 7 AÑOS, Y SOLAMENTE
405Kviews, disfrútenlo y compartánlo.