EL MEJOR CANTANTE COREANO A NIVEL MUNDIAL.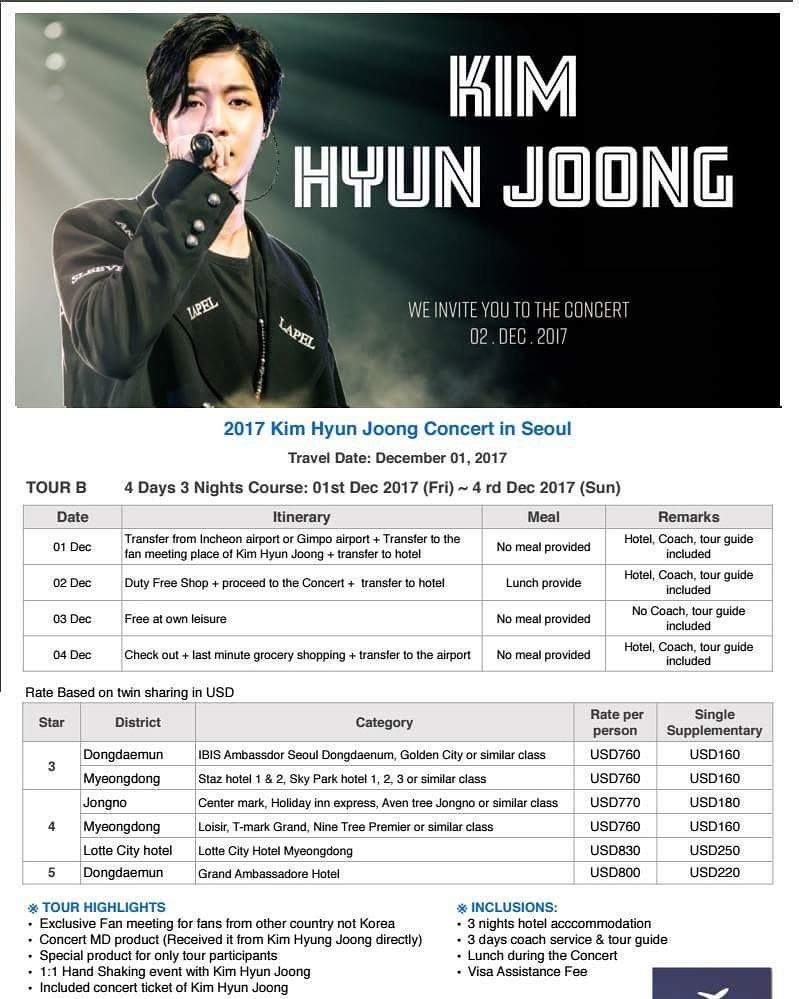 bello, criatura hermosa
DIRECCIÓN Y TELÉFONO PARA HACER PREGUNTAS ACERCA DE LOS PLANES PARA VIAJAR AL CONCIERTO DE KHJ:
Enquiry@ctc.com.sg. Or call them:
(+65)65363345, 62163456, 62163459
30 DE SEPTIEMBRE DE 2017, PALABRAS DE KHJ POR CHAT:
[2017.09.30] Chatting with KHJ Update
👽
HJ mentioned he has prepared alot for the Dec concert and ask for lots of support from fans. He will be dancing
👽
Looks like there will be world concert tour after Seoul stop. HK, Thailand, Peru(?) and Mexico in the line-up
👽
He mentioned about riding motorbike but fans online told him not to and he replied he won't ride then.
👽
He said he got to go because he is hungry. Earlier on said he had ice-cream (for lunch?!)
👽

HJ also shared 5 photos of him and his two favourite - art and matic
🐶
🐶

cute
😊
👽

Chinese fans asked if he will go China for his concert tour but he replied it is not up to him

👽

HJ said no gyiyomi at his concert (think he had enough of it in the past concerts

👽

Today's chat is organised by team.enough (coy set up by hJ's ex-mgr). [Not surprised since I doubt KE has any of such capability!
😏

]
Cr: @princessmich123

👽

HJ kept emphasis this time is not a FM it will be concert. Concert teaser and poster will be out soon
Cr: @4everHyun

👽

Recalled one more thing he said. Fans asked he got like any girl groups lately. He said don't have and he didn't think they like him either
Cr: @princessmich123
LA IDEA DE INCLUIR BAILE EN SU CONCIERTO DEL 2 DE DICIEMBRE ES BUENA, PERO NO CREA QUE LE HAYAN PEDIDO QUE BAILE EN INNER CORE SOLAMENTE PORQUE LES GUSTE VERLO BAILAR. QUE POR CIERTO LO HACE MUY BIEN Y SE VE BELLO. PARTE DE LA RAZÓN DE LA SOLICITUD DEL BAILE ES HABER ESCUCHADO 32 CANCIONES SEGUIDAS DE KHJ EN UN CONCIERTO, CREO QUE ES MUCHO PEDIRLE A LAS FANS.
ESTE LINK NOS PROPORCIONA INFORMACIÓN SOBRE COREA DEL SUR Y UNO DE SUS PROBLEMAS.
https://actualidad.rt.com/actualidad/252194-pais-suicidarse-acto-honor-corea-sur-
Este link es sobre las Relaciones entre Panamá y Corea del Sur desde el punto de vista del Embajador de Panamá.
https://impresa.prensa.com/panorama/Corea-Sur-oportunidad-estudiantes-panamenos_0_4867013343.html
El 5 de octubre de 2017 asistí a un concierto de piano de una alemana Caroline Fisher, en celebración de la Independencia de Alemania. Para mi sorpresa la pianista era una bella coreano, de la alemana no le vi nada, pero el panfleto decia Alemana-Coreana. Interpretó magistral piezas de Beethoven, Chopin, Von Weber, Schumann y Liszt.
ESTA FOTO ES HERMOSA, SE VE TAN LINDO, ES COMO PARA CAERLE ENCIMA ABRAZARLO Y LLENARLO DE BESOS.
1