KHJ CD Release Event
[Osaka]
June 11
Venue: Minato Machi River Place
10:00 CD Sale
...

13:00 Handshake event (tentative)
https://t.co/YcQGF5LaI0
Cr: @kikakhj
PALABRAS DE KIM HYUN JOONG SALUDANDO A SU FANATICA EN OSAKA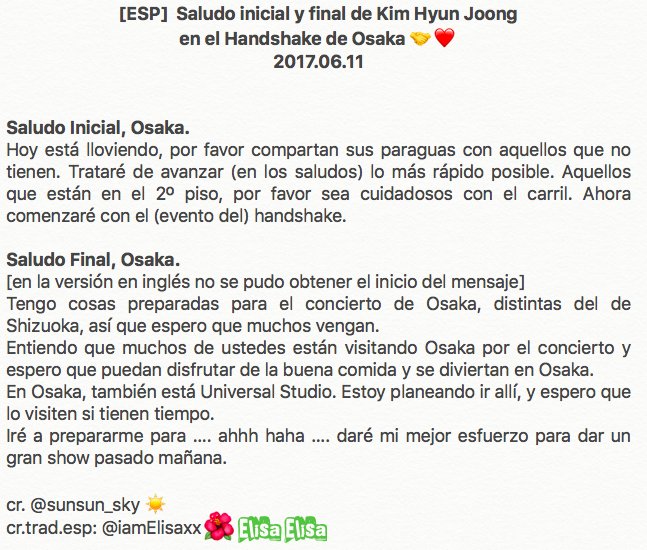 translation and cred to @sunsun_sky
I haven't seen JPN fans for two years, so my heart is beating now!
re:wind is an album that wishes to return to the old times with fans, old good times.
because it's a tour after awhile so I prepared a lot, there are new songs. So i hope many will come.
I really hope you come for sure. The MV and you can see I got mature. So you must come!
I haven't seen JAPAN fans for a long time. Hope you can come and join
all credic of contain and translate to @sunsun_sky
Do I look manly?

I came in comfy clothes but there were many fans at airport so next time i will be more careful & take off sunglasses.
I wanna show more matured side of myself in the tour.
worried after army but you said "good skin" so thank you.
All the albums I poured myself but this one I did even more because it's been awhile.
I wanted to go back to the most primary and it was nature to me so it includes them.
Fans said after listening to the album that my voice got huskier and sexier. But while recording my voice wasn't in good condition so the bad became the good. But now I can't sing like that anymore. Probably at the end of the tour when my voice is tired, I can sing like in cd.
I want to capture big nature, aurora, Swiss mountains but it was too expensive so I went to Jeju island.
I prepared a lot that you wanna hear. What would you like to hear?
You said a few songs but they are not in the tour list. But don't get disappointed and please do come to the tour.
Still no songs you said are in my tour list. It's serious....
TIME 5:06 - POSTED 11JUNE2017 - by June Chapelle
ESTE ÁLBUM ES TOTALMENTE ROMÁNTICO.
AL PRINCIPIO CUANDO CONOCÍ A KHJ, NO ME GUSTABA QUE BAILARA, POR FAVOR NO POR QUE NO LO HICIERA BIEN. SI NO PORQUE ESTABA SEGURA QUE CON SU VOZ PODÍA DEJAR MUDAS Y SUSPIRANDO A MILES DE PERSONAS EN UN GRAN CONCIERTO. ESTA GIRA ES MI SUEÑO HECHO REALIDAD, CANTANDO SOLO Y EN VIVO ACOMPAÑADO POR SU ORQUESTA.
MIREN ESA SONRISA DE KHJ, DE ALEGRÍA INMENSA AL VER AL NIÑO. DIOS LE PERMITA TENER LOS 4 HIJOS QUE SIEMPRE HA DICHO QUE QUIERE.
COMENTARIOS ACERCA DE LOS RE-TTUIT Y COMPARTIR EN FB Y YOUTUBE.
1. SI EN ELLOS APARECE UN LINK DE VIDEO DE KHJ, LA IDEA ES HAGAMOS CLICK PARA VERLO. LO HAGAMOS Y LUEGO A SU VEZ LO COMPARTAMOS NUEVAMENTE.
2. ASI UN LINK DE UN VIDEO DE KHJ QUE APARECE EN CUALQUIER TUIT O FB O G+, PODRÁ TENER MILES DE RE-TUIT Y DE COMPARTIR PERO NADIE FINALMENTE LO VERÁ.
3. PUES TODOS NOS PASAREMOS RETUITÁNDOLO Y COMPARTIÉNDOLO Y NADIE LO VE.
4. EL ASUNTO ES VERLO Y DESPUÉS COMPARTIRLO, Y ASÍ PARA CADA UNO.